About the Visual Identity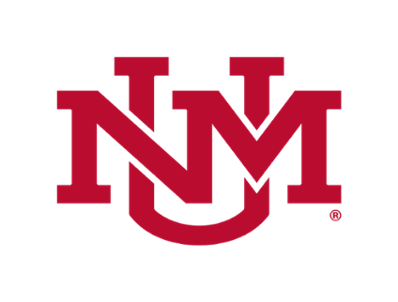 After a well-received brand roll-out in early 2016, then president Robert G. Frank convened a Visual Identity Committee, chaired by Anderson School of Management marketing faculty member John Benavidez. The committee brought together students, staff, faculty and alumni from across the entire campus, all of whom had experience and professional responsibilities in the areas of design and marketing. The charge was to examine whether or not the current UNM primary logo introduced nearly thirty years ago represented UNM in a way that was relevant, unifying and in support of UNM's branding efforts; and, if not, to make a recommendation to move forward with a new logo. The new logo comes after more than a year of careful evaluation by the committee.
---
A Fresh, Bold (yet familiar) Look for UNM
The new UNM logo is a bolder, more contemporary version of an existing spirit mark. The interlocking "UNM" letter mark has been a quiet favorite for years, appearing on apparel and other items, and was even selected by students to be used on the school's class ring. It is familiar to the UNM family, yet representative of a modern, forward-thinking university.
---
"The U" – A Symbol of Spirit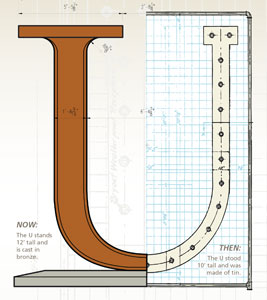 In its early days, The University of New Mexico was known throughout Albuquerque as simply "the U." Today, that role has expanded, and UNM truly serves as New Mexico's university. In the new logo, the U's relationship with interlocked NM reflects the University's central position in the state, physically, culturally and economically.
---
Sense of Place
This design reflects the curves of the campus architecture and has a subtle nod to our Southwest roots, integrating chevrons where the U and M intersect. It is collegiate, yet refined – easily recognized as a university, yet distinctive among our peers.

---

The Need for a Unifying Mark
Each of us defines all of us
The current logo features a central campus building, Mesa Vista Hall, although it is often mistaken for Zimmerman Library. Can one nondescript building adequately represent UNM? Does it represent our branches, hospitals, clinics and athletic facilities? Does it represent the academic excellence and collegiate spirit? While each of us defines all of us, so does a single unifying logo, and we need a logo that represents our entire institution.
---
Designed for the time
The current Mesa Vista Hall logo, designed in 1989, was created for the University's centennial, to celebrate a milestone in history. As UNM moved into the 21st century, its logo did not. The mark was designed before internet was mainstream, and without digital representation in mind. UNM, like all modern brands, needs a logo that looks great on websites, social media, digital advertising and more. We need a look that works on all platforms.
---
Wear it with pride
A logo plays a significant part in the UNM experience, both in promoting pride and a sense of community. Wearing or displaying a brand logo is a personal testimony to that brand, and can often be a common ground among students and alumni. Today, many people choose to wear the Lobo athletic marks, or generic "New Mexico" apparel without logos–a missed opportunity. We need a logo that students, alumni, supporters and everyone in between will proudly display.
---
By the Numbers
Time since UNM got its last graphic identity. Great brands recognize the importance of evolving with the times and creating an image that resonates with current, past and prospective stakeholders.
That's the number of people who were involved in the logo process. From students to staff to faculty to alumni and donors, every stakeholder group had an opportunity to provide input into the process. People were involved in the form of surveys, focus groups, information sessions, committees and one-on-one meetings.
Percentage of UNM respondents that could correctly identify the UNM logo. This is based on surveys students, staff, faculty and alumni. If the current UNM community can't identify the logo, how recognizable is it to prospective students, donors or patients?
Number off-campus commercial retailers surveyed that sell merchandised items licensed with the existing UNM primary logo. Retail use of the logo is an indicator of pride in the mark.